June: Her Old Self
An aneurysm threatened June's life. Against great odds, UCSF's expert team got her through it unscathed.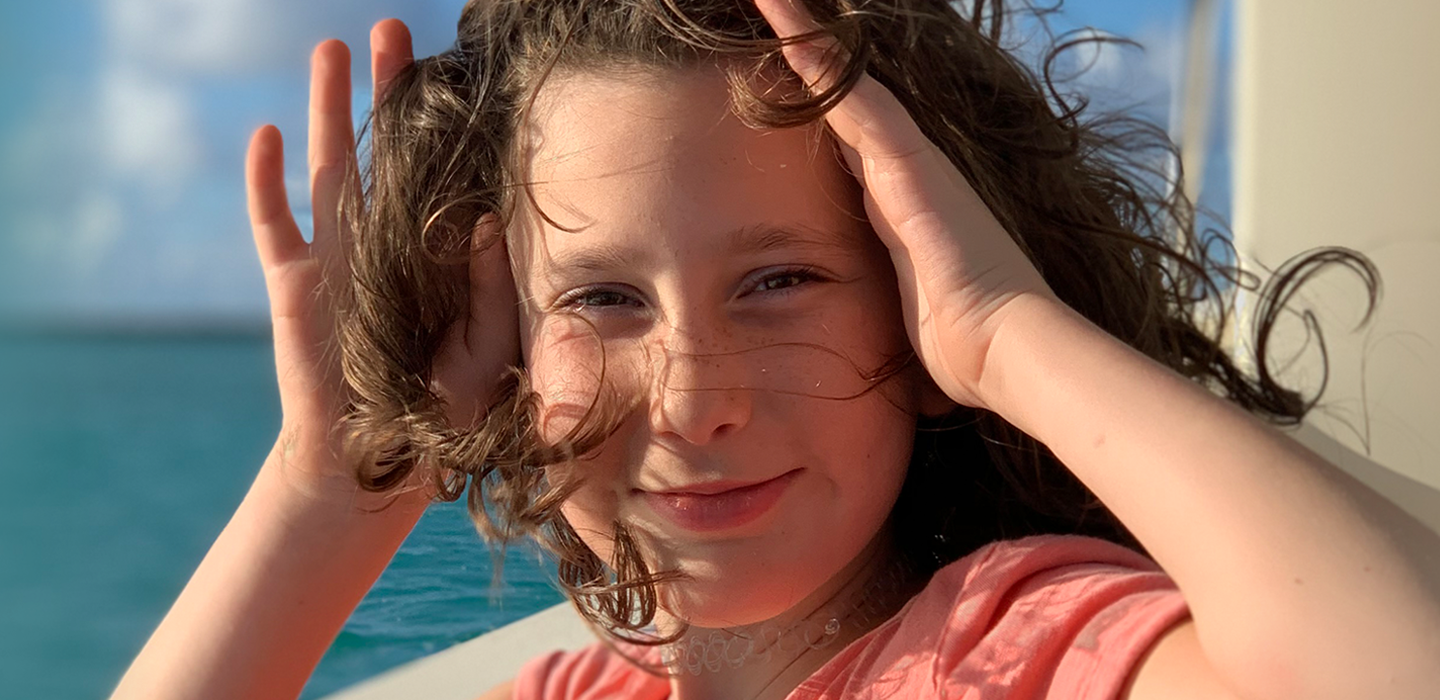 June's parents joked for years that her brain was different than other kids'.

"She's always been unusual – she stands out," says her mother Jessica. "We liked to say her brain was bigger than everyone else's."

In December 2018, the joke became all too real. The quirky 7-year-old had just changed into her ballet outfit to head to an evening dance class when she got a violent headache, then began to vomit. Her parents rushed her to the local emergency room. There, a CT scan and MRI showed a mass: a ruptured aneurysm.

About the size of a kumquat, June's aneurysm was particularly large and located on her brainstem, where it could threaten basic functions like breathing and swallowing. "The chief of pediatric neurosurgery took one look at the scans and said the only place that could save her was UCSF," Jessica says.

At UCSF Benioff Children's Hospital, ranked best in Northern California for pediatric neurology and neurosurgery, June's multidisciplinary team consulted for four days on the best course of action to save June's life without causing lasting damage. Meanwhile, caregivers kept her blood pressure down to limit bleeding and performed neurological checks every hour around the clock.

"UCSF is so innovative in these moments because their approach is to workshop ideas and brainstorm among the team, and even consult with colleagues around the world," Jessica says.
I realized in hindsight that he wanted to be there to see that June made it. That's the dedication you get with this team.

The team finally decided on a treatment plan that involved three surgeries. Given the severity of June's condition, her family was warned to expect personality changes or, worse, loss of basic functions. The main operation, to remove her aneurysm, was performed by Dr. Daniel Cooke, a renowned specialist in brain aneurysms. Hours after the successful surgery, Cooke himself removed the gauze from June's incision – at 1 a.m.

"I was happy to see him, but I also thought, 'Does a surgeon really need to be here for this?'" Jessica recalls. "I realized in hindsight that he wanted to be there to see that June made it. That's the dedication you get with this team."

After two weeks in the Intensive Care Unit, June returned to her Oakland home on Christmas Day, already back to her old self – the best present her family could have asked for.

"I think the true success in all this is that she's unaffected on a day-to-day basis, which is just incredible," Jessica says. "I don't take that for granted."

Two years later, June, now 9, is back in school and doing ballet. "We are struck every day by how lucky we are to have her," Jessica says. "I always say it's a miracle, but I don't think it is. It's the product of extremely skilled individuals who care deeply about their work."

Jessica is also impressed by her daughter. "Bravery is not about being strong all the time; it's doing something you're afraid to do, and I've seen that over and over again from June," she says. "I've never met anyone as brave."

But June doesn't think she's special. "I just think of myself as myself," she says. And for that, her family is beyond grateful.