Xavier Gatlin is a competitor.
He started playing basketball at 3 years old. By 2nd grade he was playing competitively, and by 3rd, he was traveling up and down the West Coast with an elite club team. At the end of that season, his team was ranked number one in the west.
That's when the injury happened. In 2017, Xavier, 8, fell during a game and another player landed on top of his knee. He came out, went back in, then came out again, limping and in pain.
"It seemed a bit unusual because Xavier tends to have a pretty high pain threshold," says Johanna, Xavier's mom. "And there is definitely an undertone with these elite teams of just tough it out. We don't condone that mentality. If you're hurt, you need to step out and see what's going on. So the fact that Xavier didn't want to keep playing was alarming to us."
Over the next few days, Xavier's knee continued to hurt. At school, he didn't want to play during recess. The family pediatrician recommended rest, ice, and ibuprofen, and the pain subsided. But every time Xavier got back on the basketball court, the pain came back.
Johanna and Kang Su, Xavier's dad, took their son for an MRI, which revealed a small cyst in the knee area attached to the ACL. Xavier was referred for physical therapy and diligently followed his treatment plan. But six weeks later, doctors found that the physical therapy had actually aggravated the knee.
Xavier was frustrated. He wanted to tough it out. He did everything doctors recommended, rested the knee, felt better, got back on the court, only for the pain to return.  "It finally got to the point where he just couldn't play," says Johanna. "He would come out wincing in pain. We were following the doctors' advice, but we just couldn't bear to see him like that anymore."
Xavier's mobility began to decline. The pain went from intermittent to excruciating. That's when the turning point came: In 2019, another MRI revealed that the cyst attached to his ACL had grown to the size of a golf ball. The family decided to travel from Seattle to San Francisco to get a second opinion at UCSF. Xavier was scheduled for surgery with Dr. Nirav Pandya, a world-renowned pediatric orthopedic surgeon who specializes in sports medicine for young athletes.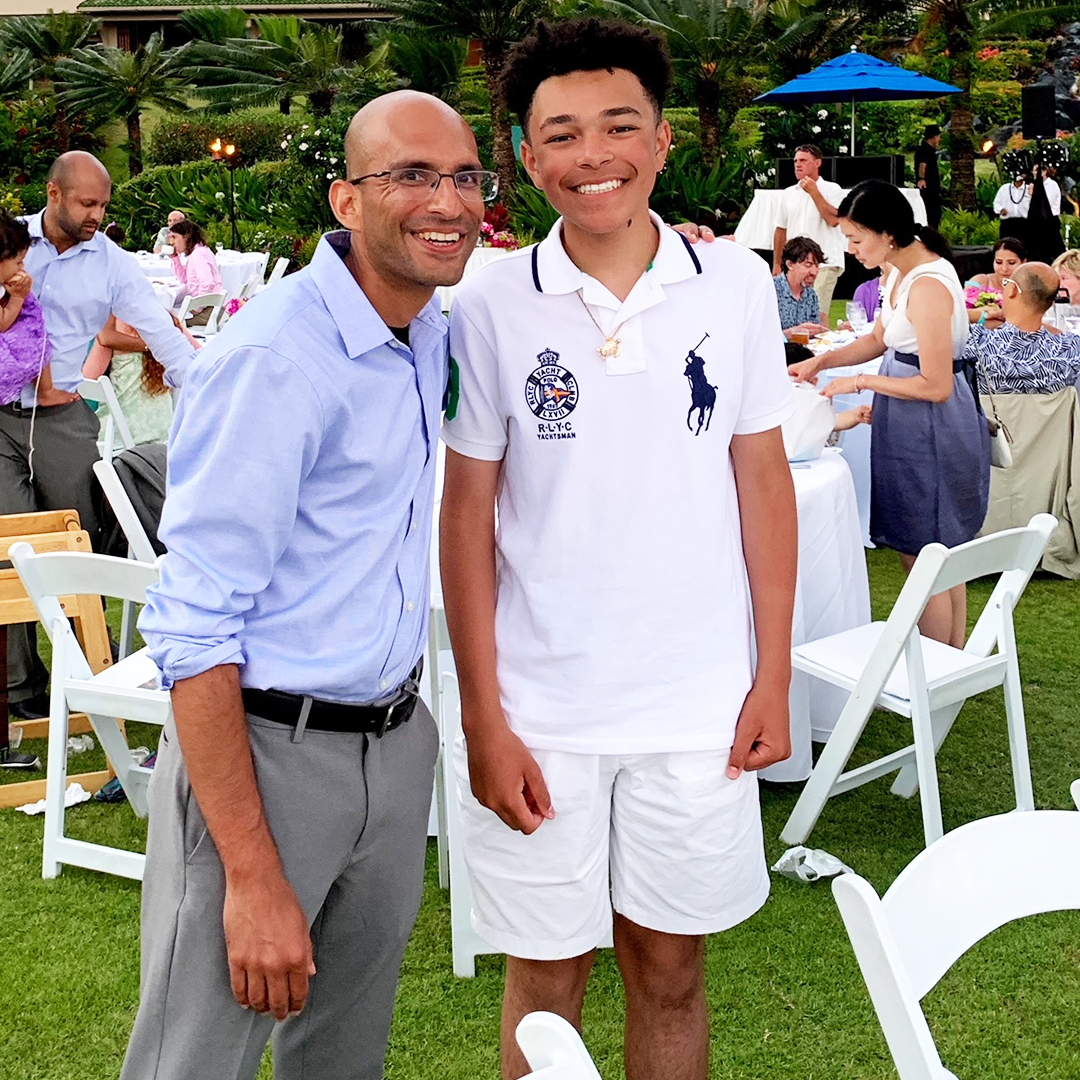 Dr. Pandya and Xavier following knee surgery.
The surgery wasn't straightforward. Dr. Pandya would only know what procedure to perform once he saw the inside of Xavier's knee. "It could be a simple cyst removal, it could be a partial or full ACL reconstruction, it could be a meniscus repair," says Johanna. "But he prepared us for each scenario. We knew exactly what to expect with each possibility. We had incredible peace of mind. And for Xavier, the experience was difficult, but not traumatic."
Dr. Pandya removed the cyst. During the operation, he found that there was a torn meniscus, which he also repaired.  The procedure was a success.
Johanna says that with Dr. Pandya's support and detailed guidance, Xavier was able to take control of his recovery and focus his energy on healing, despite the pressures to get back on the court. And even after a long hiatus, he hasn't missed a step: Now in the 7th grade, Xavier's game is better than ever. He can touch the rim and has his sights set on dunking by the 8th grade.
Johanna and Kang Su say it's great to see their son doing what he loves again. But they're even more grateful that they got a second opinion from UCSF and a recovery plan that gave their son the time he needed to heal – both physically and emotionally.
"Xavier is doing great. We play one-on-one in the backyard, and he beats me consistently now," says Kang Su. "Seeing how well he's doing, I think the advice I would give parents is, for the sake of your kids' bodies, don't be afraid to take some days off here and there."