Alex: A Normal Fifth-Grader
At a routine check-up, Alex learned he would need major heart surgery.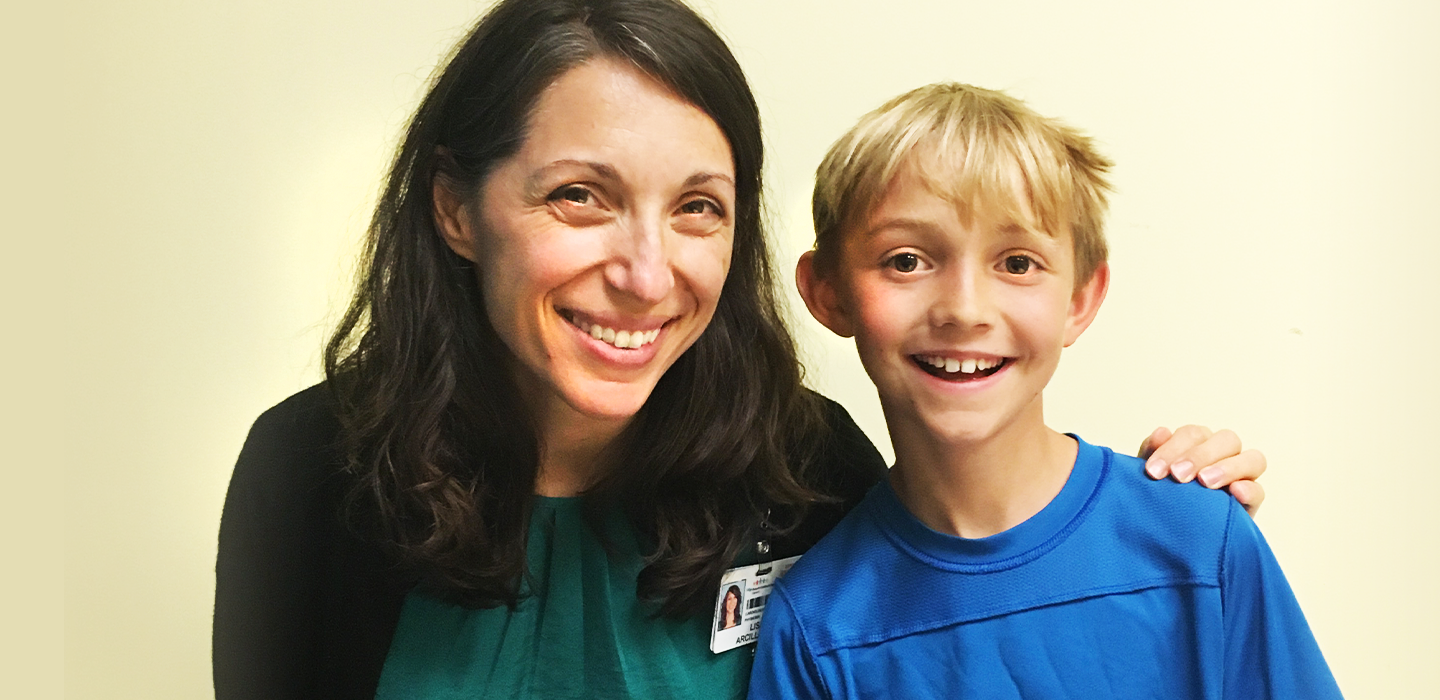 It was supposed to be a routine visit. Ten-year-old Alex, who has chronic lung issues, was seeing his pulmonologist for a standard echocardiogram.
When Lisa Arcilla, MD, spent longer than usual on the procedure, Alex's mother Diane first assumed she was being overly cautious knowing that Diane is also a physician.
Then Dr. Arcilla sat them down. "There's a little problem here, and to fix that problem you're going to have to stay in the hospital for five days," she told Alex.
"I immediately knew that meant open-heart surgery," recalls Diane. "I was shocked."
Alex had a hole in his heart, and blood that was supposed to go to the left side flowed into the right instead, causing it to become enlarged. Though he'd been born with the defect and had several previous echocardiograms, his heart had likely only just grown large enough for it be detected.
Luckily, Mohan Reddy, MD, chief of the division of pediatric cardiothoracic surgery and a world-renowned surgeon, was available to operate.
"Heart surgery is not only a skill, it's a delicate art," Diane says. "You value the surgeon's hands and their experience. Dr. Reddy has so many surgeries under his belt, and we felt very fortunate to have him."
After the successful surgery, what impressed Diane most about Alex's stay in the intensive care unit was the staff. "The nurses are great; they're attentive to both the parents and the child," she says. "The people at the hospital really care, and that makes all the difference."
Diane was also struck by the fact that every patient received the same excellent care, regardless of insurance status or ability to pay. "That's what Oakland does. Every kid needs treatment, and they'll do it, no matter what," she says. "Your kid is sick, and we're all in it together. The hospital is for everybody."
Another silver lining for Diane was the opportunity to understand what her patient families go through after a difficult diagnosis.
"A lot of times as doctors we are removed from that," she says. "I feel like it's important to be on the other side and know what it's like to be in that situation."
Back at home in Walnut Creek, the experience inspired Diane to raise money to support the hospital's cardiology department. Alex bounced back to normal within a month – even returning to the soccer field. He comes in for regular checkups, and thankfully, there have been no more surprises.
"To Alex, I don't think what happened was a big deal," Diane says. "He would describe himself as a normal fifth-grader, and that's fine with me."
Support the cardiology department