Child with Leukemia Leaves a Lasting Legacy
Barry, Terye, and Randie Baruh had a happy childhood. Growing up in Atherton, California, in the 1950s and '60s, they enjoyed a doting, loving life with their parents, Marilyn and Morton. 
Randie was the youngest child. She loved her family and friends and riding horses. Her siblings say she was beautiful, inside and out. 
But at age 11, Randie began feeling ill. The initial diagnosis was mononucleosis; later, Randie underwent surgery to remove her spleen. During the surgery, doctors discovered the real cause of Randie's illness: leukemia, a common childhood cancer. 
Marilyn and Morton were devastated. They decided not to tell the other children so Randie could enjoy some normalcy, even as her life was upended by hospital visits. "They told us she was anemic," says Barry. "They wanted us to treat her as if everything was normal. You know, fight with her when we needed to fight with her and love her when we needed to love her." 
Randie died shortly after her 13th birthday. Marilyn and Morton told their older children the truth when they realized the end was near.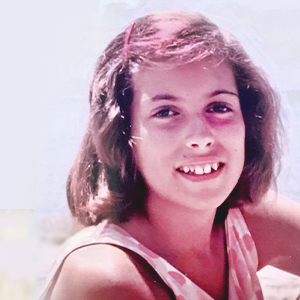 Randie Baruh
"It was heart-breaking," Terye says. "But my parents carried on. That was when they created the foundation." 
In the wake of Randie's death, Marilyn and Morton established the Randie Lynn Baruh Research Foundation to advance pediatric cancer research. They threw themselves into fundraising, staging celebrity golf tournaments and throwing galas that raised millions of dollars for children's cancer initiatives over the decades. 
Before he died, Morton dreamed of donating the remaining funds to a single cause to make a powerful difference for kids with cancer and find a permanent home for Randie's legacy.  
Barry and Terye recently realized that dream. They donated the assets of their family's foundation to establish the Randie Lynn Baruh Pediatric Cancer Research Fund at UCSF Benioff Children's Hospitals. The fund will support innovative research into immunotherapy, cancer genetics, and relapsed leukemias. Today, the children's garden on the San Francisco campus – a space where children and families can rejuvenate outdoors – is named in Randie's memory. 
"We were so impressed with what UCSF had to offer," says Terye, whose own daughter-in-law had a life-saving experience at UCSF. "It is such a fine hospital, with the best doctors and incredible research. We are so grateful for what they do." 
Barry and Terye say that what their parents created in Randie's memory has been a gift – not only to children with cancer, but also to them. 
"We feel so lucky to have this opportunity to make a family's life easier," says Terye. "We just want to save as many children as we can."