How We're Serving Patients During COVID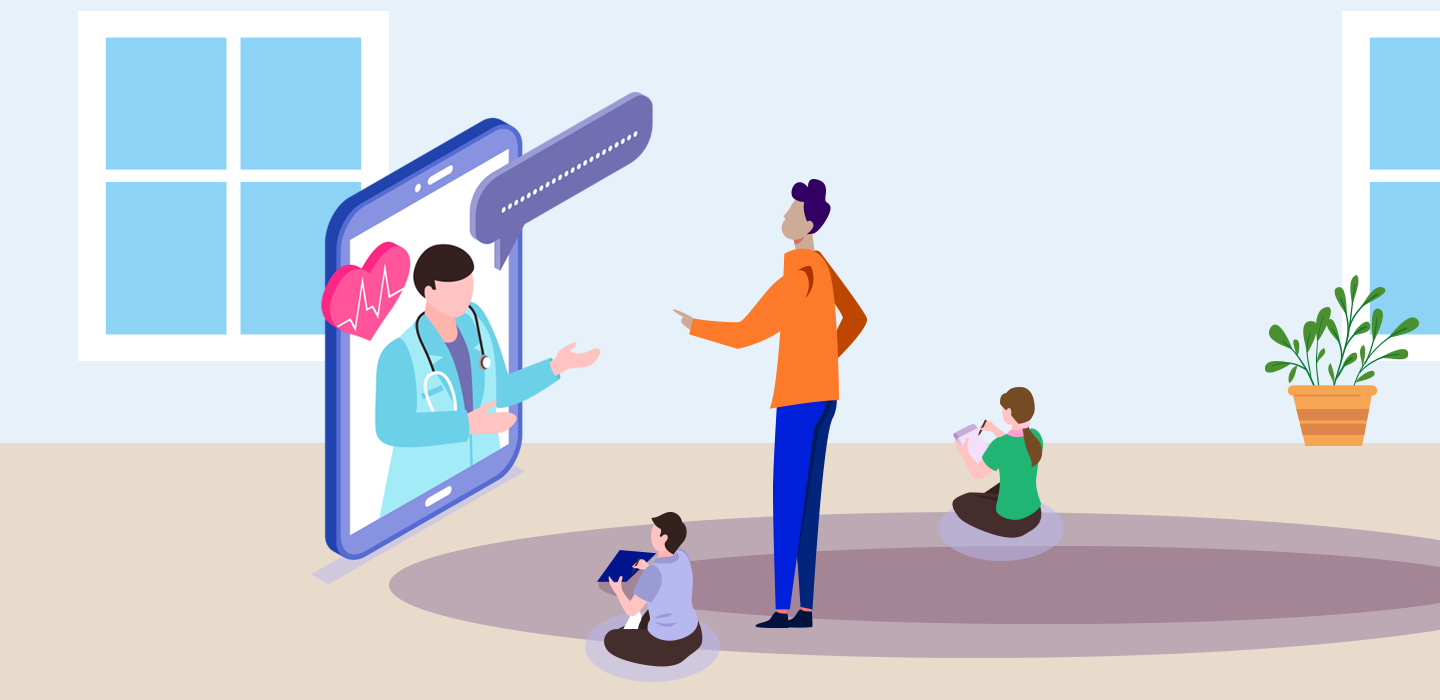 During this global pandemic, other conditions haven't just vanished. With safety precautions in place, we're now welcoming families back to the hospital. But we've also adapted and innovated to ensure we can serve every family in need. 
Below are a few ways we're staying connected to keep kids healthy:
Helping Kids Make Healthy Choices
To encourage kids with type 2 diabetes to manage their diet and stay moving during shelter in place, diabetes educators at the Madison Clinic have been leading group lifestyle education classes via Zoom.
During one class, dieticians and diabetes educators Katie Hynes and Amelia Baker taught the group how to make a tasty, healthy lunch of a "jumping bean" salad and baked apples. The patients were then led through three rounds of a circuit training workout while they followed along at home.
"Motivating kids to make healthy lifestyle changes is hard, so we came up with the idea of a hands-on cooking and exercise class to make things more exciting," says Assistant Professor Shylaja Srinivasan, MD, who is leading this effort. "Many of our patients are ashamed to talk about food or move their bodies in front of others, so it was great to see them have fun and exercise."
"I really enjoyed exercising together and continue to do the exercises daily in my living room," says one teen patient.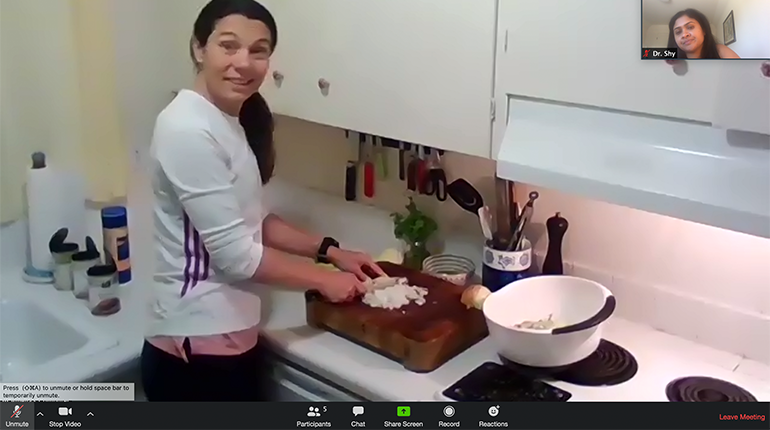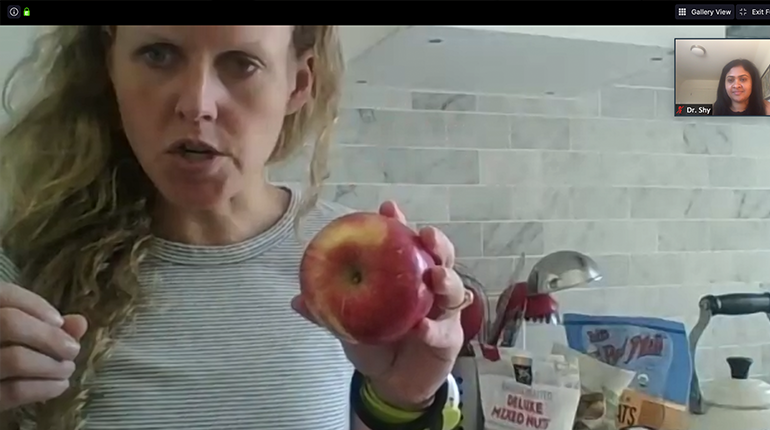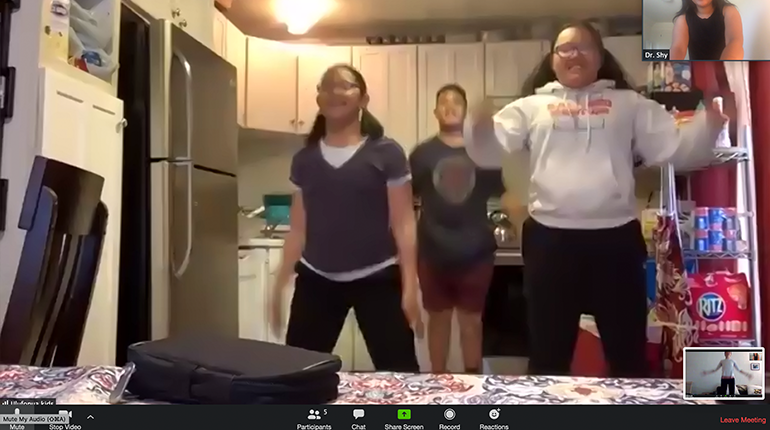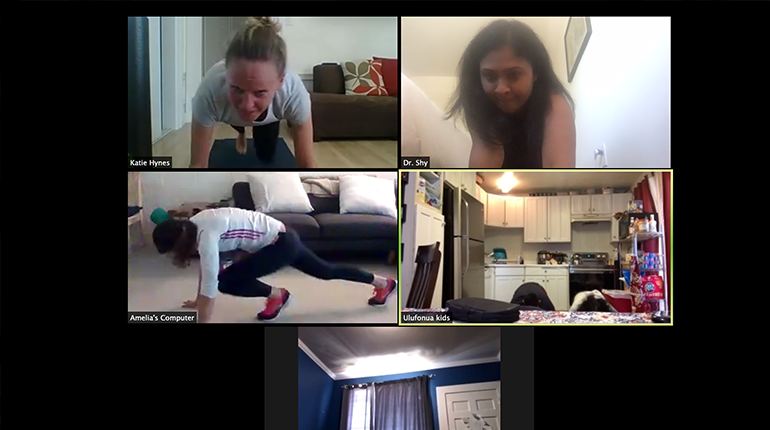 Keeping Tabs on Heart Conditions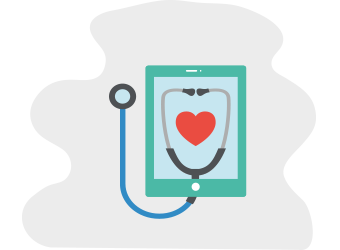 For women at higher risk of having a baby with congenital heart disease (CHD), pregnancy can be particularly stressful, even in normal times. For a select group of women, those with elevated but still relatively low risk – who have a family history of CHD, for example – cardiologist Lisa Arcilla, MD, is delivering care via telehealth. 
These women would normally come in for a fetal echocardiogram, a procedure that puts the patient and provider in close proximity for an extended period – not ideal at this time. For women whose regular ultrasound shows what looks like a healthy heart, Arcilla is doing a video visit to review the images remotely, allowing them to avoid the procedure.
"Pregnant women face additional considerations and complications if they get exposed to the coronavirus," Arcilla says. "Anything we can do to safely minimize in person visits and help them stay home seems to be appreciated by these lower-risk patients."
Providing Reliable Information for All
Interpreters at UCSF Benioff Children's Hospitals help deliver health care to families in more than 70 languages. Prior to the pandemic, the team did not participate in video visits. In April, they covered about 400. They're also experiencing a huge increase in telephone calls – including many parents who are concerned their sick child might have COVID.
"It's so important for our families to hear someone in their own language to comfort them and assure them that we can connect them to resources," says Hilda Diaz, who manages the team. 
Non-native English speakers have been at particular risk during the pandemic, making interpreters' work crucial. They're keeping families informed about how to minimize their risk.
"We are even more in need now as a bridge between patients and providers," Diaz says.
"We understand the levels of poverty and socio-economic struggles these families have, and we often get a gut feeling about bigger concerns we can help address, like about paying rent or keeping food on the table."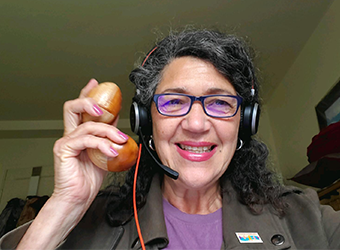 Continuing Therapy as Anxiety Rises
Therapists like Dina Hankin, PhD, are seeing an increase in anxiety among patients, making it all the more important that they continue to deliver services to families in need.
Hankin provides therapy to children and teens currently in treatment for cancer and blood disorders, as well as for young cancer survivors and their families. Until now, she's conducted these visits in person, but she and the rest of the Braddock Emotional Support Team (Judith Cavazos, Mona Mardini, and four graduate students) have shifted to video visits whenever possible.
Faced with new stresses, some patients who had already concluded therapy are even reaching out to start treatment again, Hankin says.
"It's been wonderful to be able to be there for my patients as much as possible because they are going through an extra level of anxiety," she says.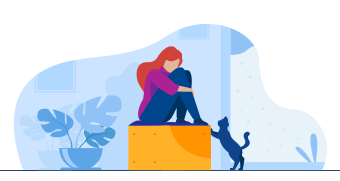 Sharing Strategies to Manage Pain
The Integrated Pediatric Pain & Palliative Care Clinic is helping families relieve kids' pain by virtually teaching them healing techniques to use at home. During Zoom sessions, caregivers receive training on how to provide safe, gentle, and effective acupressure for both their children and themselves, which is proven to relieve anxiety, nausea, and pain. Patients and parents are also taught breathing techniques to reduce anxiety.
"It's fun to visit with children and families in their home," says pediatric acupuncturist Robyn Adcock. "All of our families have expressed how grateful they are to have the continuity of care from UCSF. Telehealth works!"