Liam: A Life Transformed
Adopted from overseas with a life-threatening illness, Liam needed expert care. He found it at our hospital.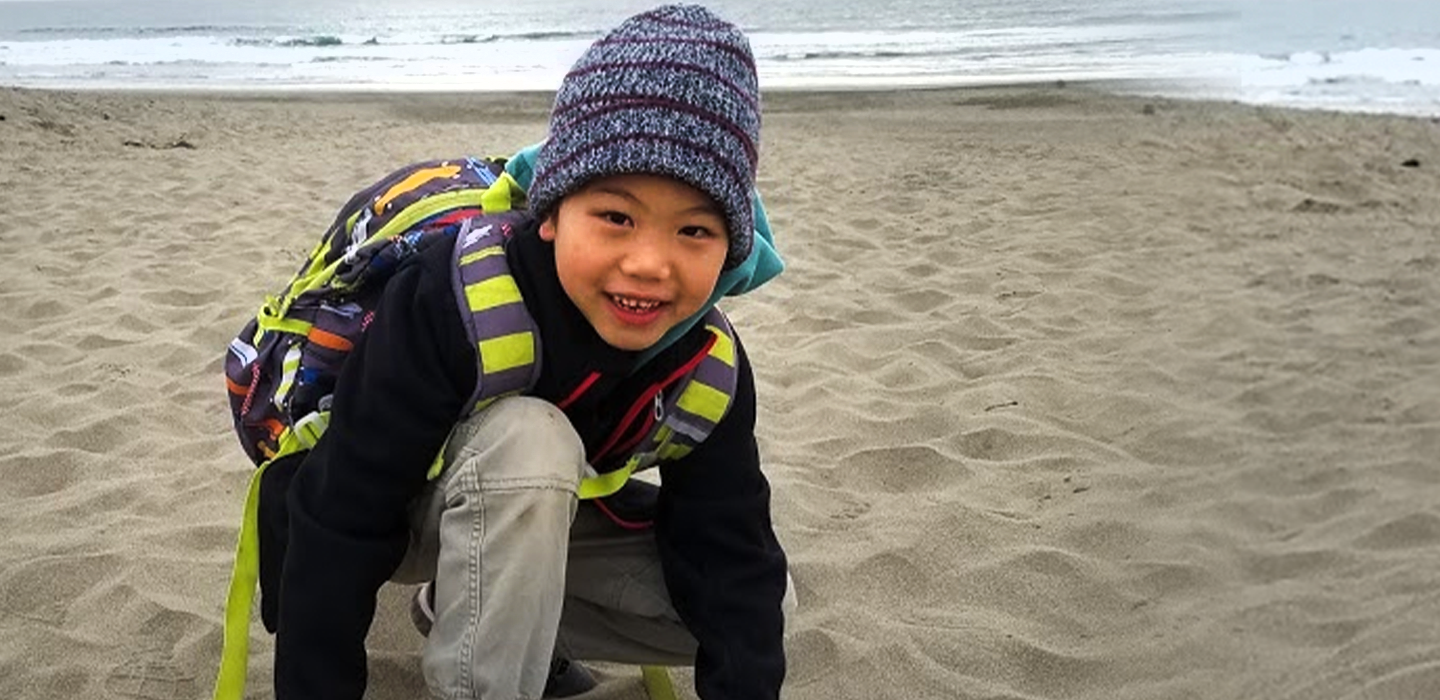 Nathan had never considered adopting a child. He was already a father to two young girls and had a busy, full life in his hometown of Bozeman, Montana.
But then his family happened upon a photograph of a little boy – a single image that would change his life. The toddler, who had been abandoned at a Chinese orphanage as a baby, had beta thalassemia major, a rare and severe inherited blood disorder. In the United States with access to excellent medical care, the boy could live a fairly normal life. In China, he might not make it past his teens.
"A simple change in location and resources could transform this boy's life," says Nathan. "That's what decided it for us. We fell in love with his story."
The toddler, who the family named Liam, came home with them when he was two and half. Liam quickly bonded with his two older sisters and picked up English with remarkable speed.
We felt safer going to Oakland – it's worth the travel because of their experience.
His parents soon learned that finding stellar health care for a child with a rare condition in rural Montana was more challenging than they had expected. They trekked to every provider within a day's drive, hoping to find one they trusted to handle his complicated medical needs, but kept striking out.
Their research eventually brought them to UCSF Benioff Children's Hospital Oakland, a national leader in the treatment of inherited blood diseases like thalassemia and sickle cell. In fact, parents of adopted children with thalassemia travel from all over the country to our Oakland campus for care; a special clinic staffed by experts in the disease caters specifically to the needs of adoptive families.
"They have renowned specialists and innovative treatments," Nathan says. "We felt safer going to Oakland – it's worth the travel because of their experience."
Liam gets blood transfusions near home every three weeks and takes daily medication to reduce the high iron levels in his blood. He visits our Oakland campus twice a year for access to leading hematologists specializing in thalassemia, state-of-the-art equipment, a nutritionist, an endocrinologist, and more.
The family received airline miles donated by Pixar, a local corporate partner, to support travel to Liam's most recent appointment. "We feel very lucky to have had the cost of plane tickets covered this time to help keep the trip affordable," Nathan says.
Liam, now a sporty 7-year-old, loves his trips to California and handles all his medical hurdles like a champ.
"He always has a good attitude," Nathan says. "He has an incredible ability to adapt."
Nathan tries not to get his hopes up, but he's optimistic that a cure for beta thalassemia will be available in Liam's lifetime. Advances from institutions like UCSF give him reason to believe. In 2018, for example, the team at UCSF Benioff Children's Hospitals successfully performed the first in utero stem cell transplant on an unborn child with alpha thalassemia, allowing for a healthy birth despite this universally fatal condition.
For now, Nathan's main hope for his son is the same as any parent's: for Liam to be happy.
"We hope to make sure Liam stays healthy and well cared for, despite the hard years at the beginning of his life," Nathan says.