Sickle Cell: Closing in on a Cure
Sickle cell disease, a painful blood disorder that disproportionately affects people of African descent, was identified more than 100 years ago. But lack of funding for research has meant that there have been few treatment options available. Now, for the first time in a century, UC scientists say there is real hope of a groundbreaking cure. Meet one patient whose future depends on it.
Brooklyn Haynes, 26, has been a patient at UCSF Benioff Children's Hospitals since she was just two months old. She suffers from sickle cell disease – a hereditary red blood cell disorder that is present at birth and continues throughout life. Its hallmark is pain.
"The most challenging part for me and this disease is definitely the pain," Brooklyn says. "Getting out of bed every day is a struggle. Working a job has been the hardest thing because it literally feels like my bones are breaking."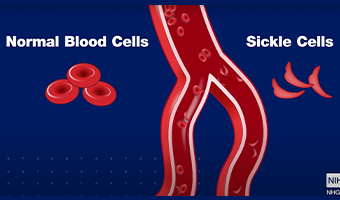 Sickle cell disease is caused when misshapen and damaged red blood cells block the flow of oxygen and fluids into the smallest blood vessels in the body, resulting in excruciating pain. While the disease was identified more than a century ago, until recently, there have been few therapies available.
"The reason for that really lies in structural racism," says Marsha Treadwell, MD. "There are disparities in funding and that's really the crux of why we haven't gotten to a cure yet."
For decades, UCSF Benioff Children's Hospital Oakland has been a national leader in sickle cell research, care and advocacy aimed at raising the voices of people affected by the disease. And in the wake of the recent racial reckoning in the United States, the medical community has acknowledged the impact of discrimination on sickle cell research, and there has been broad new investment in finding a cure.
In a groundbreaking effort, scientists from UCSF, UCLA and UC Berkeley are leveraging this infusion of donor funding to explore how CRISPR – a cutting-edge gene editing technology – can be used to cure sickle cell disease. With CRISPR, scientists can modify the sickle DNA in a child's own blood cells and use those healthy cells to eliminate the disease. As a first step, researchers will begin enrolling patients in a clinical trial in the coming months.
"We are finally putting resources toward people with sickle cell disease who have so long lacked basic care," says Dr. Treadwell. "A cure can revolutionize and change [these patients'] lives."
For Brooklyn, the prospect of being able to have a normal life is more than enough.
"We want to live, just like everybody else," she says. "Finding a cure means finding a future."