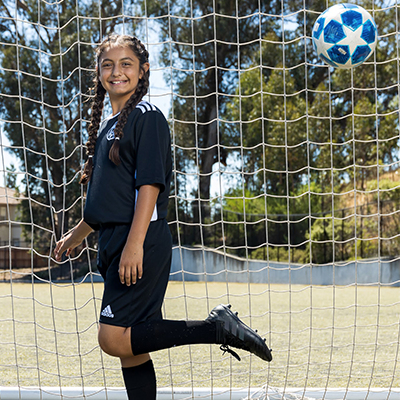 When 11-year-old Krystie Gomes' leg started to hurt last summer, it wasn't a shock. Driven by her fierce competitive spirit, Krystie's evenings and weekends were consumed by her volleyball and soccer teams. Injuries were expected.
But when months of physical therapy didn't ease Krystie's pain, alarm bells rang for her mother, Kathy. An initial blood test and X-ray came back clean, but Kathy demanded another. This time, the doctor discovered a large tumor on Krystie's femur.
The oncology team at UCSF Benioff Children's Hospital Oakland – ranked best in Northern California for pediatric cancer care – was waiting for Krystie that same day. They confirmed she had osteosarcoma, the most common pediatric bone cancer. Krystie started chemotherapy immediately, followed by surgery and more rounds of treatment.
From the beginning, her mother was confident that Krystie was in good hands. "At UCSF, they make you feel like a whole team has your back," she says. "I don't know if they're so kind and gentle because they work with kids or if maybe they are really, literally, angels."
At UCSF, they make you feel like a whole team has your back.
During Krystie's first rounds of chemo, COVID-19 escalated from concern to crisis. A hospital room packed with friends and family suddenly shifted to the support of a single caregiver: Kathy.
While isolation has been tough, the hospital staff rallied with compassion and support. Playing Bingo with other patients from the comfort of her room – via closed circuit TV – lets Krystie tap into her competitive side. And thanks to donor gifts, the Child Life team keeps her stocked with paint and canvases so she can express herself through art.
All along, Krystie's fighting spirit and positivity have served her well. She enthusiastically started rehabilitation therapy the day after her surgery, to the amazement of her family and medical team. When friends call to complain about daily annoyances, she's quick to encourage them – and put things in perspective.
"She'll say, 'If I can get half my leg taken off, you've got this,'" Kathy says with a laugh.
The global crisis has provided a silver lining to Krystie's personal one. She can't be out scoring goals or spiking volleyballs, but neither can any of her teammates – or, for that matter, many kids around the globe.
"We're all missing out together," Kathy says. "Everyone jokes that when Krystie is ready to come back to the world, the world will be ready for her."
Until then, with her medical team at her side, Krystie remains focused on winning.