Chris Menezes has always loved games.
An East Bay native, Chris grew up with two working parents and spent a lot of time alone as a kid. He found comfort in video games on nights when his parents were working late. And games were a way to make friends – some of whom remain central in his life to this day.
"Games brought me joy," Chris recalls. "When I was a kid, they helped me calm down and deal with stress. And they helped me connect with my friends emotionally – including during the pandemic, which hit me really hard. They have always been therapeutic for me."
Chris knew he wanted to pursue a career in games. He calls it his passion project. After landing a position with Electronic Arts (EA) directly out of college in 2010, Chris earned roles at CrowdStar and Disney before returning to EA in 2017 as a development director for Maxis Studios, best known for creating The Sims franchise.
"I still have to pinch myself almost every day," Chris says. "Like, is this real? I get to make games for a living? It brings me so much joy to be able to make something that has a positive impact on people, just like it did for me when I was growing up."
So when Chris first learned about Extra Life – a Children's Miracle Network Hospitals program that mobilizes gamers of all levels to raise funds for ill and injured children in their local communities – he knew he wanted to get involved. To date, Chris and his Maxis team have raised over $48,000 for UCSF Benioff Children's Hospitals – all through gaming.
Chris says Extra Life is like a walkathon, but with games: "You know, for every mile you walk, your supporters donate a certain amount of money. Instead it's, hey, I'm going to be playing games for 24 hours, will you donate money and watch me get really silly at about hour 18 when it's like 4 in the morning?"
Of course, not all Extra life players go for 24 hours straight. Chris says he loves the marathon approach, even though it's getting harder to stay up late now that he's in his early 30s and the father of a toddler.
Extra Life gamers – whether on their own or through company teams – can raise money year-round, culminating in a massive international day of play called Extra Life Game Day. Participants can play any kind of game they want: video games, board games, even outdoor games; and integrate features like live streaming to entertain their sponsors. Any level of gamer – from seasoned to new players – are welcome to join the fun and make a difference. All proceeds go directly to the gamer's children's hospital of choice. Since 2011, Extra Life has raised over $4.4 million for UCSF Benioff Children's Hospitals.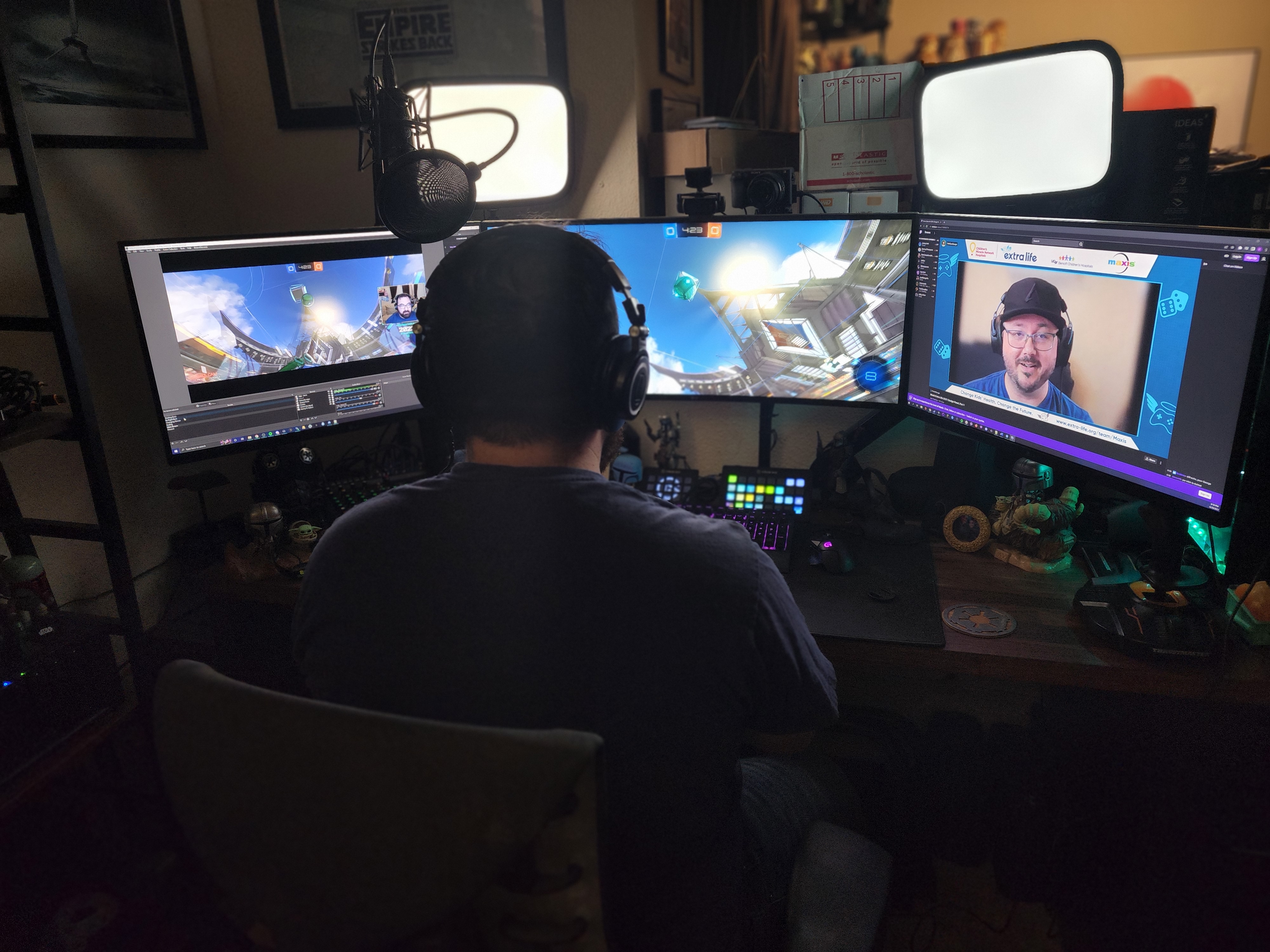 Photo: Chris pictured playing with his fellow gamers.
Chris has found the Extra Life experience extremely rewarding. "I get to do something fun and entertaining and connect with people and make a positive impact on the world," he says.
And while Chris doesn't have a personal connection to UCSF Benioff Children's Hospital – he says the love of gaming and the mission to help kids are all the inspiration he needs – many of his sponsors do.
"I've had people at work come up to me and say 'Hey, you know what? You're raising money for something that saved my kid's life. UCSF Benioff Children's Hospital saved my kid's life'. And knowing that I have contributed to that is just amazing."
Learn how you can sign up too!