The Pursuit of Perfection
Dr. Corey Raffel: From Pediatric Neurosurgeon to Wildlife Photographer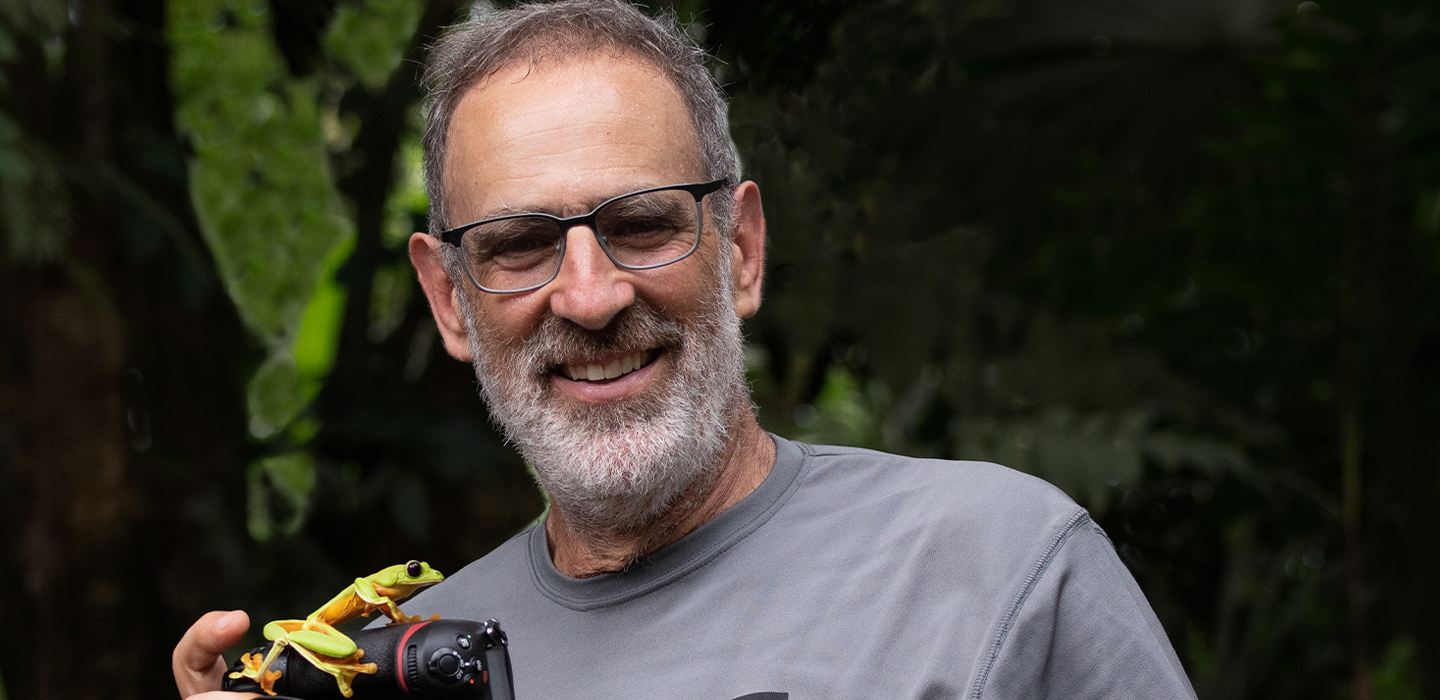 Corey Raffel, MD, PhD sort of fell into pediatrics.
As a medical student at UC San Diego, Dr. Raffel quickly found his passion for neurosurgery. "The brain is the ultimate place to hone your surgical skills. Nothing is like the brain. And the precision that's required... you just have to be perfect. I'm a perfectionist, so I loved the challenge."
Pediatric neurosurgery was another story. A Bay Area native, Dr. Raffel had his sights set on beginning his career at UCSF. The catch: The only opening was for a pediatric neurosurgeon. Dr. Raffel says pediatrics may not have been the calling he imagined, but it became the calling he loved.
"Kids are great," he says. "They can be scared, but when you're done, all they want is to get better. To get back to the playroom. And if you can do an operation that helps them, it's incredibly gratifying."
A Gratifying Career
Dr. Raffel's career took him from UCSF to Children's Hospital Los Angeles, the Mayo Clinic in Minnesota, and Nationwide Children's Hospital in Ohio. But the pull back to UCSF was strong, and in 2013, Dr. Raffel and his wife Kathy returned to the Bay Area so he could finish his career at the institution that had inspired his profession all those years ago.
"UCSF is one of the premier medical centers in the country, and patients get incredible care," he says. "And it was one of the really great places to train in neurosurgery. But it was also tough. We worked long, hard hours, and we formed really strong bonds as a result. I made some incredible friends there – friends I still have to this day."
Giving Back
In August 2020, Dr. Raffel retired after over three decades in practice. Reflecting on his time with UCSF, he decided to establish the Corey Raffel, MD, PhD Endowed Professorship in Pediatric Neurosurgery, which will provide permanent funding to help UCSF recruit and retain talented pediatric neurosurgeons. "I felt like quid pro quo," he says. "I felt like I owed my career in neurosurgery to UCSF."
Dr. Raffel says he was inspired by the UCSF colleagues of his past and faculty who were so important to his training. "The people I worked with set an example of excellence. They influenced my work and made an incredible difference in my life. I am so grateful for them," he says, listing his mentors by name. "I just felt that I needed to give something back."
"UCSF is one of the finest neurosurgery programs in the country. But we don't have a big endowment like the private institutions. We have trouble recruiting faculty because of that, and the cost of living is so ridiculously high here. I wanted to provide some resources so they could recruit someone excellent and pay that person well."
The people I worked with set an example of excellence. I just felt like I needed to give something back.
This summer, Winson Ho, MD, was recruited to UCSF and will become the Corey Raffel, MD, PhD Endowed Professor in Pediatric Neurosurgery. Dr. Ho's research on neuro-oncology will further Dr. Raffel's own groundbreaking work studying pediatric cancers of the brain.
The Perfect Passion
Shortly before retirement, Dr. Raffel traveled to Peru, where he discovered a passion for wildlife photography – particularly documenting parrots.
When asked how he got into photography, he cites the same quality that inspired his career in neurosurgery: "I think it stands me in good stead that I'm a perfectionist. I have a vision for what I want my pictures to look like – a sharp, perfect representation of the animal in its habitat. It's just so much fun."
Dr. Raffel is now two and a half years into retirement and loving his new life. He has photographed birds and other animals across the Bay Area ("There's a Peregrine Falcon nest in Pacifica!"), as well as in Texas (whooping cranes) and Florida (snail kites), and abroad in Brazil, Canada, Costa Rica, Colombia, Ecuador, and Tanzania. Shortly after our interview, he traveled to Botswana. Australia and Thailand are next.
But for Dr. Raffel, photography is much more than a hobby. An avid wildlife conservationist, he has donated his stunning images to the non-profit organizations he supports for use in their own fundraising efforts. "I don't take pictures to keep them for myself," he says. "What I want to do is get them out there so they're doing some good."