The Next Level of Rare Disease Care
How UCSF is tackling juvenile dermatomyositis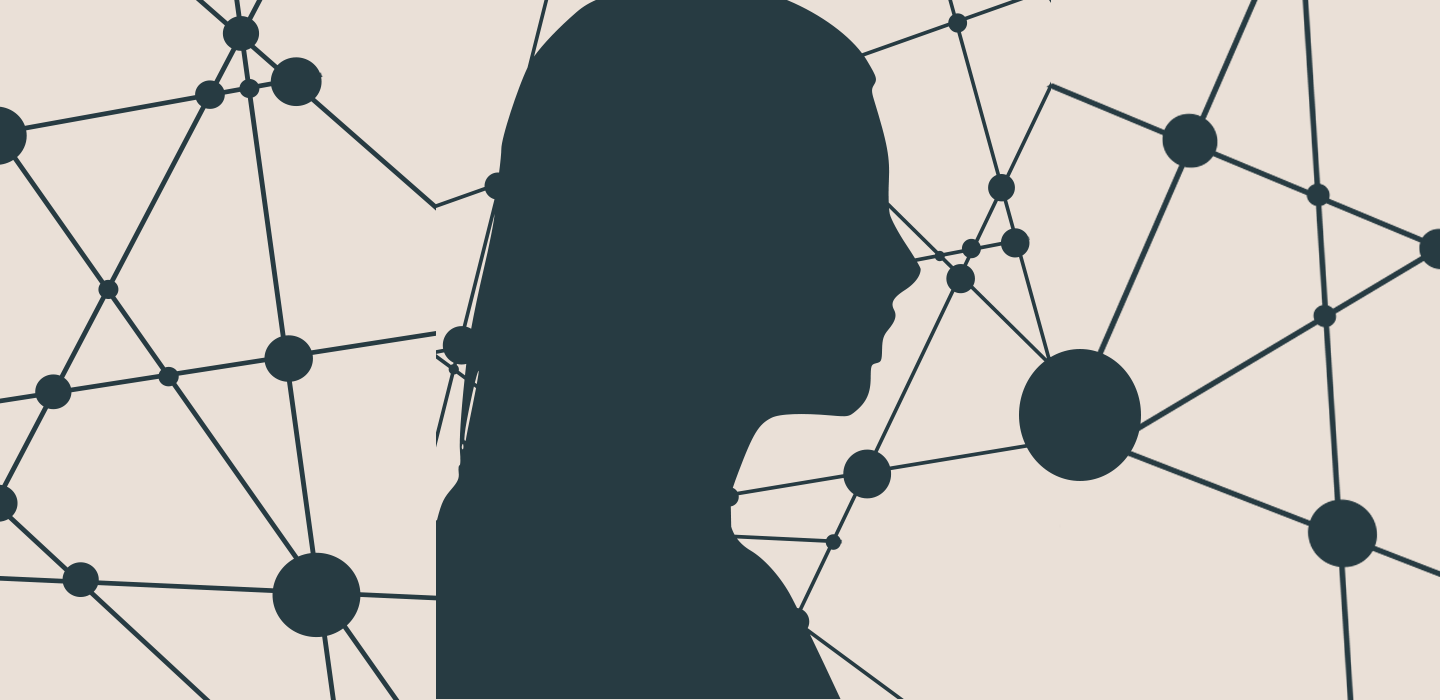 By the time Annabel Takahata was airlifted to UCSF from Hawaii, she was already severely ill. 
Annabel – who was 8 at the time – was in so much pain that she could barely walk. Her legs were covered in deep, painful ulcers, and the discomfort made everything – even eating – incredibly difficult. Annabel was also terrified: the worsening condition of her body, the dramatic impact on her quality of life, and months of doctor's visits with no relief had left her deeply distraught.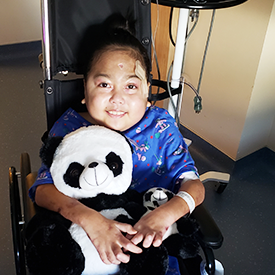 Annabel at UCSF in 2019
"I don't think they had ever seen a case like hers in Hawaii," says Chris Takahata, Annabel's grandmother, reflecting on the events leading up to their sudden trip to San Francisco. "I was on the phone with our pediatrician every day, pleading with her to do something. We went back and back again. We saw our local rheumatologist, but Annabel couldn't tolerate the medications. Eventually he said, 'we have to send you to the mainland'." 
Annabel was diagnosed with Juvenile Dermatomyositis (JDM), an extremely rare condition affecting about 3 children in 1 million, that causes painful inflammation in the skin and muscles. Patients can experience pain and damage to their joints, heart, lungs, intestines and other vital systems. Due to the chronic, severe nature of the disease, the psychological impacts can also be significant.
"I have never seen someone more traumatized," says Jessica Neely, MD, pediatric rheumatologist at UCSF Benioff Children's Hospitals. "It was heartbreaking. She had wounds on her body from head to toe. It was a huge multidisciplinary team effort to get her better that included rheumatology, dermatology, rehabilitation, child life, nursing, and many others. And Chris and Annabel showed so much resilience. They were remarkable." 
A Multidisciplinary Effort 
Once in San Francisco, Annabel was immediately hospitalized. The UCSF JDM team – led by Susan Kim, MD, MMSc, the rheumatology director of the combined rheumatology-dermatology clinic – evaluated Annabel's condition, identified her unique needs, and began an intensive treatment regimen that put her on a path to  improvement. 
"They just jumped right in," Chris says. "They were so familiar with what Annabel was going through. And the level of care, the team she had at UCSF – they were great. I couldn't have asked for better people." 
Dr. Kim emphasizes that she holds her rheumatology counterparts in Hawaii in high regard. "The rarity of JDM, the severity of Annabel's case, and her more severe presentation necessitated a treatment course that was distinct from the average child," she says. "There are basically no FDA approved medications for JDM. Annabel's case sheds light on how critical it is to improve recognition and treatment for all patients with JDM. We need to be able to do more for our kids." 
In 2022, Drs. Kim and Neely took a major step forward for JDM care. Following a highly competitive national selection process, UCSF was chosen by the Cure JM Foundation as the nation's fifth Center of Excellence for JDM. The new initiative – the Improving Juvenile Myositis Program at UCSF Precision (a.k.a. I JuMP UP), CureJM Center of Excellence – is working to combine personalized, holistic, patient-centered care, spanning rheumatology, dermatology, physical therapy, social work, education, nutrition and peer support, with cutting-edge research to revolutionize future JDM treatment. 
"At UCSF, we are experts on how to treat JDM with currently available medications," says Dr. Kim. "With treatment, the vast majority of our patients are able to function without obvious disability or limitations; they can walk, go to school, play sports, and spend time with friends; and on the surface, they can function like other children their age. But we feel like we can and need to raise the bar higher, and change the treatment paradigm, to control JDM with new and more effective medications, with fewer side effects, and really improve physical and mental health.
"When we can combine our medicines with other key interventions including targeted physical therapy and psychosocial support, I believe our patients can do so much better. The new center will work to pull those pieces together in one place."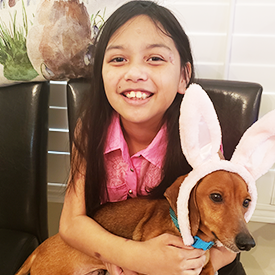 Annabel at home after discharge
Prioritizing Mental Health 
Annabel was in the hospital for three months. It was a hard time. She was in profound physical and emotional distress. The family's life was upended. Chris decided to permanently relocate to the mainland to be close to Annabel's care team and lived at the hospital while her granddaughter recovered. 
But Chris and Annabel also found a new family at UCSF. Chris says the nurses went out of their way to bond with Annabel. Child life specialists comforted her during wound dressings and other painful procedures. "They were such a wonderful team," Chris says. "Everyone was there for her every step of the way." 
"It was incredibly moving to see Annabel's improvement by the end of her hospitalization," says Dr. Neely. "That wasn't thanks to us necessarily, but the whole team we have at UCSF who worked with her to address the medical trauma she experienced."
Experiences like Annabel's inspired the new Center of Excellence's focus on mental health. Social work and coping support will now be more central to clinical care; educational programs will be developed to equip families with vital information and resources; and peer support groups through I JuMP UP and Cure JM will connect children isolated by a rare disease with others like them. 
"JDM is a chronic disease with long term psychosocial impacts," says Dr. Kim. "If you can imagine a child with weakness, who's unable to grow and develop and move around normally with their peers. If you can imagine a child with rashes, who's unable to play outdoors because of the UV exposure that flares their rash – a rash that can be very painful and uncomfortable or make a child feel unnecessarily self-conscious. You can imagine how isolating that can be. That's why we want mental health to be one of the cornerstones of our center." 
A Better Future 
Annabel is now 12 and doing better. The medications and doctor visits are fewer, and her skin is improving. She's getting tall and she loves to swim. Annabel will be able to return to school this fall.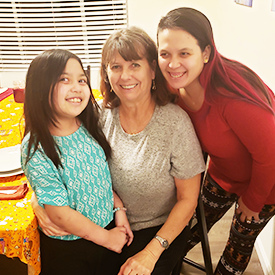 Annabel with Chris and Mom
But there are still challenges. Annabel gets tired after a long walk. Her legs still get sore. The lesions on her skin have become scars that may never disappear entirely. And uncertainty remains a part of her life. The same confusion that marked the early days of Annabel's diagnosis will follow her through the recovery process and even into adulthood.  
"It's just crazy, with something this rare" says Chris. "You look for explanations and there are none. I don't know if things are ever going to be normal for her. I guess it just remains to be seen. Right now, there are still more questions than answers." 
Drs. Kim and Neely hope that the research conducted through the I JuMP UP Center of Excellence will ultimately diminish some of that uncertainty. Dr. Neely, who serves as the Center's Co-Director, will lead an effort to learn from UCSF's JDM patients: patient data paired with biosamples can improve clinicians' understanding of the disease and eventually be used to create more effective treatments. The hope is that the five centers of excellence will collaborate in research and future clinical trials that vastly improve treatment and outcomes for JDM patients worldwide. 
"We really believe this designation will help us treat more patients and advance medical knowledge on JDM. We hope we can sustain this momentum and support over the longer term," says Dr. Kim. 
Chris is hopeful too. She's thrilled that the UCSF team that changed her granddaughter's life will now have the resources to help more children and someday shed new light on this rare disease.  
"I am just so grateful for places like UCSF, and the experience they had with JDM," she says. "I am so glad their work is being recognized."